Málaga – The consolidation of architecture language
Description of the Architecture in Malaga from 1990 to 2012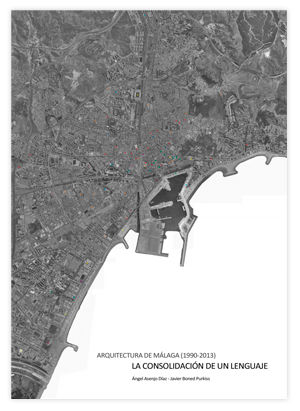 On behalf of the Urban Environment Observatory of Malaga, a Malaga Council's agency, the Architects Angel Asenjo and Javier Boned delivered late last March a dossier describing the characteristics of the Current Architecture of the city of Malaga from 1990, established as the reference date, to present times.
With the support of a group of students of the Malaga School of Architecture, a detailed analysis and compilation work has been conducted selecting the architectural works of this city carried out by architects who have made architectural works in the city to a greater or lesser extent. Regardless the architects' origin and residency, the main goal has been to highlight the architectural quality of the works and their authors.
To do that effectively, several areas of urban development of the city have been outlined and the most significant works belonging to each of them have been highlighted. On the basis of modern aesthetics, the relevant parameter taken into account for this work, the dossier is a first approximation to this matter and the intention is to complement the same to form a larger document setting out the key architectural events occurred in this city. In fact, there is no publication so far bringing together in a sole document the architectural work present in Malaga. In this way, we think is certainly very important to produce one as a contribution to the general knowledge of the architecture and to give prestige to the architect profession in Malaga.